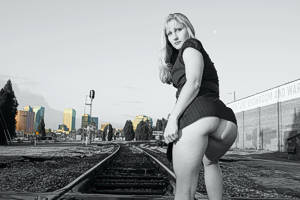 There are moments in life when you are lucky enough to come across a true free spirit and Jessica was one such moment for me. I met her first as a client and when I mentioned this "art project" that I was working on, she catapulted herself from client to prospective model with a simple "that sounds so cool" type of response.
So a few weeks later when I found myself shooting her amongst the run down warehouse buildings that bordered Tampa and Ybor City, her spirit was almost as easy to capture as her beauty. She provided me with a real difficult selection problem; there were so many great shots in so many great poses. But at the end of the day, I opted for this one on the railroad tracks.
"Your jeans are going to get destroyed down there."

Jessica
I chose it not just because she has a lovely ass, but the distant city skyline and the lingering moon in the morning sky …. Nah, ok, I confess. It was the ass.