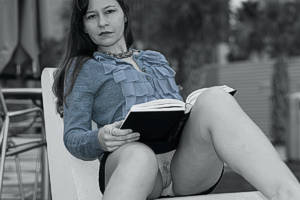 I don't care what anyone says, there is a definite thrill in meeting someone for the first time and within minutes having them open their legs or their top to expose themselves for your lens. It isn't a sexual thrill, it could be a control thing, or perhaps something more deeply psychological that psychology experts could better explain.
I had never met Erica before and have never met her since. Our lives collided in a public area just off Ashley Drive in Tampa and for an hour on a chilly winter morning, we exposed more than our souls as we sought to get a winning shot. In earlier years she told me she had done a little modeling in the north east but nothing that bared her in such a way.
.
"I don't believe I am doing this."

Erica
She was a short subject to work with and surrounded by these huge skyscrapers, the shot very much chose itself. She looked every bit at home in these surroundings and my imagination could easily stretch to having encountered her on her lunch break from a nearby office .