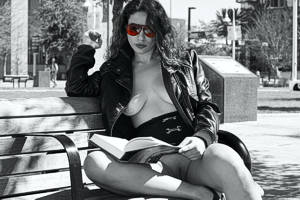 I have known Whitney for a few years and when she heard I was pulling this project together she said she would love to be a part of it. I had shot her several times before but nothing beyond PG, so this was a very bold step forward for her.
We shot just off Ashley Drive right in the middle of the downtown skyscrapers having found a little bench that gave us some privacy. But she had just unzipped the jacket and opened up her legs when a bus full of old people with cameras descended on our location. There must have been thirty of them or more and you can see a couple in the background of the selected shot.
"A fucking bus load! Are you kidding me?"

Whitney
But was she phased? Not one bit. "Keep shooting, Neville", she said "I'll close up when people get too close." Nerves of steel, this young lady had. And the body to match, apparently!