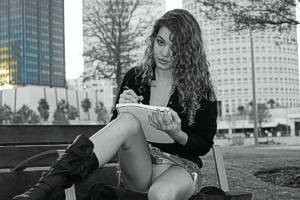 Shooting a girl who looks like she is sixteen in a downtown playground without any panties on, might have been a little edgier than I had originally planned. But her angelic face belies the rather devilish character that lies within.
I had never met Brittany before the shoot but we have since become good friends. So she won't mind me pointing out that what you see is not what you get with this young lady. She lives life fully and blazes trails through the clubs and beaches of the greater Tampa area.
"A playground, Neville. Really?"

Brittany
She brought her "sister" Heather with her as a chaperone (find Heather elsewhere in this book) which I can't say I blame her. Meeting a weird old guy with a camera at sunrise in a lonely part of town is not the safest environment for a modern miss. But by the end of the shoot, I began to feel that I was the one who should have brought a chaperone!