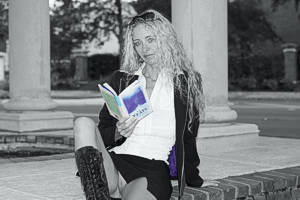 Mac and I shared a common love for Yeats and so enjoyed a mini-poetry morning on Kennedy Blvd, near the University of Tampa. We mused over one poem in particular, while she slowly open her right thigh and gave my lens a little verse all of its own.
She was recruited into the project, not in response to an ad, but by a conversation I had with her when she hired me to shoot her for her husband's Christmas present. Recruiting clients into this project is a pretty rare occurrence (only three of the fifty fall into that category) and to make this even more unlikely, she was the most modest of the five.
"This is no country for old men."

Mac
But chance encounters occasionally lead to life-friends and over the subsequent years, she has evolved into one of my most treasured.