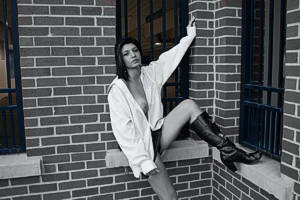 An interesting thing about location shooting is that the value of the location is driven by purely what the camera sees in the shot. This can make the most innocuous little spot a location of interest. Outside a parking garage in Ybor, in a little red-brick ingress corner, I chose to shoot Jackie.
Jackie has done a good amount of modeling and you could tell. Her confidence in her poses and her expressions, bore evidence to the fact that she knew what looked good on her.
"When they get closer, I'll put it away."

Jackie
She remained undaunted as a cleaning crew appeared from nowhere, clearing up debris from the previous night's revelries in Tampa's party area. "Keep shooting" she said when I pulled back at their sudden arrival. "If they get too close, I'll cover up." They can't have been more than 40 feet away when she opted to cover up her wayward boob. Aaah, the joys of working with a professional.