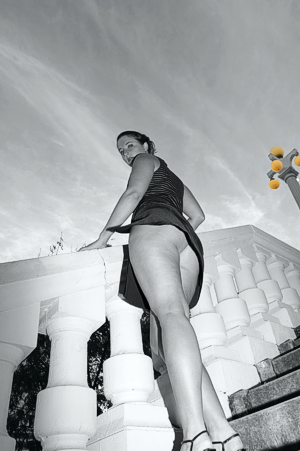 One of the key themes of this project was my intention of keeping my photo intentions discrete or at least not obvious to all and sundry. In some cases we were able to be more daring that others, primarily when there was no one within sight or likely to suddenly appear. But the location for Nessa and her chosen wardrobe made it almost impossible to disguise what I was doing.
There was no subtle way for her to "accidentally" expose a boob with the top she chose and given our location of Kennedy Blvd in Tampa, people and car traffic made it near impossible to shoot much else. So there was no disguising my intentions for this shot, as I lay on my back shooting directly up her skirt as people and cars just casually passed us by. The only assistance I got was from a gentle breeze that lifted her skirt long enough to give me her ass cheeks for a brief moment.
"Do you need me to bend over or anything?"

Nessa
Nessa had never posed for anything before and I suspect this was her one and only tryst with the erotic arts. But she had one marked effect on me and my project inasmuch as from that moment on, I requested a photo of the outfit each model planned on wearing!