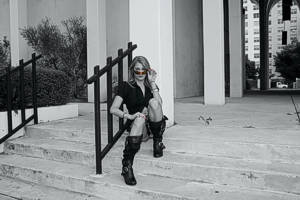 It isn't an obsession with churches, nor is it an intention to show disrespect, but architecturally inner-city churches seemed to offer up some strong options for the type of shoots on this project. So, when Brittney replied to my model search ad, I couldn't resist the strong columns and feel of this concrete offering.
I hadn't met her before this shoot, but Brittney was one of those people that just oozes natural comfort in front of the lens and this comfort permeates through the shoot to where it produced one of the highest percentage of winning shots in the project.
"They're pulling into the parking lot."

Brittney
My only contact with her to date remains our involvement on this project, which is such a shame to me.