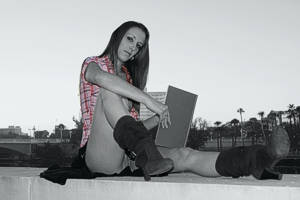 I had met Terri several months prior to this shoot. She was a dancer at a club that I was asked to shoot promotional pics for. The girl was awesome on stage but had never done any modeling … so this was her maiden shoot.
One thing I noticed when shooting dancers at clubs is the state of their legs, generally heavily bruised and often with cuts and scabs, symptoms of a lot of work on the floor and the pole. April was no exception, hence the use of this pose to cover the right knee and the insides of both thighs.
"If you move to where I am, you can see everything."

Terri's husband
Funny thing is, I almost missed this particular angle. But her husband suggested that I move a little to the left, where he was standing and that I would see everything. He was right!