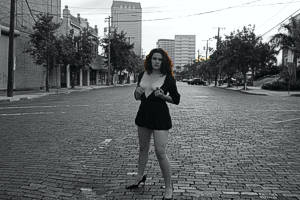 She must have been partying all night and given that we were shooting at 7 am, I don't believe there was even a hint of sleep taken before this one. No make-up, cuts, and bruises (even on her knuckles), and hair that didn't look like it had seen a brush in a few days, Andrea looked every bit at home in one of the rougher parts of Tampa's west side.
Add to this, the fact that our shoot was prematurely ended by a knife carrying homeless dude who "wanted some of that" and threatened to kill me if I didn't let him, and you might begin to understand why I was particularly pleased to get even this one useful shot.
"I thought you saw him."

Andi
She may have been a little ready than I wanted but this girl followed me into the middle of the street and with traffic fast approaching behind me, got her boobs out, and even shouted "thanks" to the appreciative driver that blew his horn as he slowly drove past.