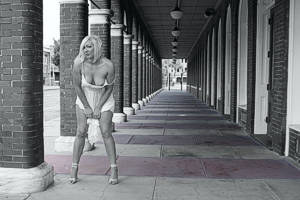 Another sight-unseen model that turned out to be fabulous for the project, Melissa had done some modeling and responded to an online ad for the project. Sometimes there is that moment when a model shows up and you realize that you have just hit a home run. Such was the morning we met in Ybor.
I had chosen this heavily pillared walkway that I felt would create a tunnel effect, so with such depth in the picture it was important that the model would have a strong presence of her own, with which to compete.
"What if I just lean over and you tell me when?"

Melissa
Melissa had that and then some! Her dress and style was a perfect match for the elegant surroundings and her natural curves made the centuries old architecture blush in comparison.