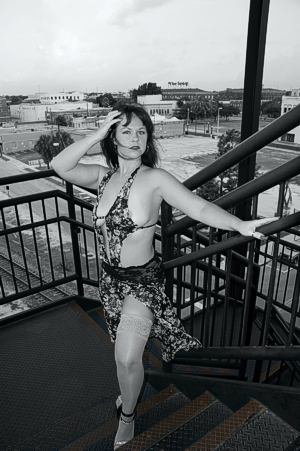 There are genuinely moments where you shake your head in dismay. When I gave initial instructions on what I was trying to shoot, I clearly failed to get my point across. A dreadfully wrong outfit and the fact that she brought her 12-year-old daughter with her completely killed our first attempt.
Fast forward a couple of weeks and we found ourselves re-shooting this time on the stairs at an Ybor City parking lot. Despite telling her "nothing flowery" we made do with her second attempt and found an interesting shot that kinda-worked.
"Want me to pull it out altogether?"

Mary
Parking garages are not a great choice of venue though. Their security people are not the friendliest people in the world, but such is what happens sometimes when you give certain people uniforms.
Oh well, I lived and learned!