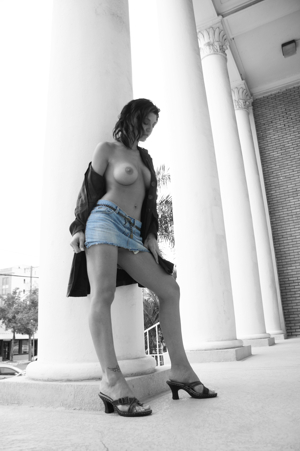 Getting your boobs out on the steps of a church takes a little bit of courage and to do that within 4 feet of their glass front door is the mark of a real professional model. Jackie had no qualms when I asked her to take up this pose and if the church has security cameras in place, we must surely be busted.
Adding to the sacrilege was that it was a Sunday morning and the congregation can't have been more than an hour away.
"If anyone comes out this church door, right now, you and I are hell-bound, Nev."

Jackie
I'm not sure if that had anything to do with the almost angelic feel that this picture took on. But flanked by these daunting pillars and surrounded by the early morning glow, it seems heaven-sent to me.