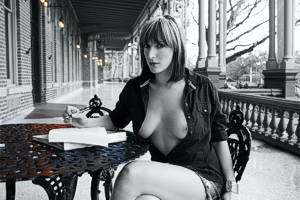 Another subject that I had never met before, nor since. Joanne was a natural answer to my search for a student-like model to shoot at the University of Tampa. At the time, she was both a student AND a model.
We set up on the front porch of the Plant Hall building and even though crowds were beginning to assemble (it's a popular photo-location) by careful position we were able to get several "boobs out" shots before the crowds were too invasive.
"This is my first time going topless on camera. Do they look ok?"

JoAnne
I particularly like this shot because the architectural style of the building isn't entirely lost in the glow of her nudity.